Onward NRV participated in the GO Virginia Faculty Networking and Internship Event at Virginia Tech to connect employers with talent.
This event was a two part event that created the opportunity for regional employers to meet with faculty in order to understand what opportunities there are to participate in project-based work in the classroom and then connected the regional employers directly to talent at the university. Connecting with faculty and students in the classroom could allow local employers to 'build their brand' and also serve as the first step to consider more extensive joint research in the long-term. Faculty in attendance were from manufacturing, engineering, business, IT, computer science, biomedical, health sciences, food and beverage processing, and other areas.
Once the employer and faculty portion was complete, employers had the chance to share internship or job opportunities with Virginia Tech undergraduate students.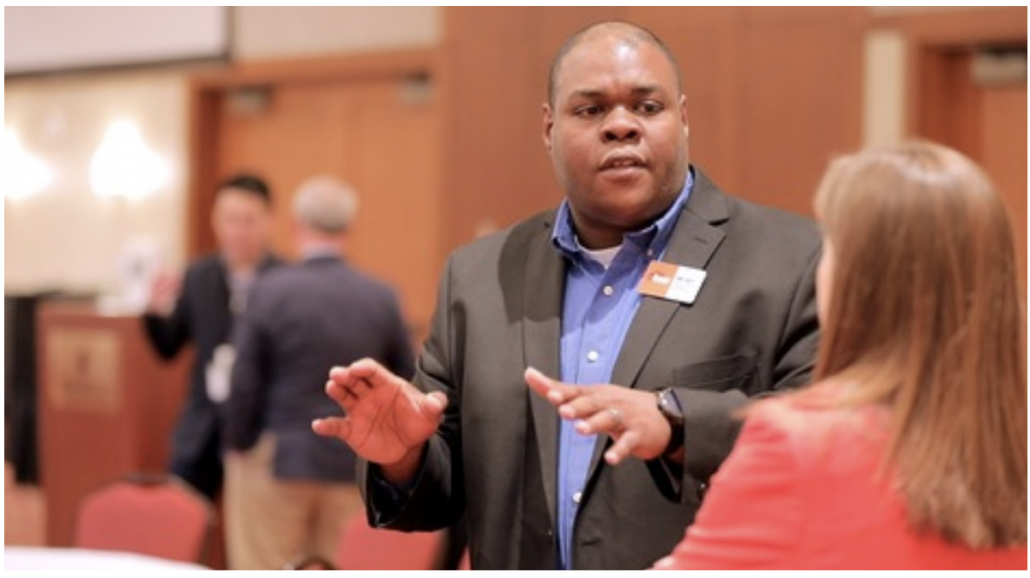 The event is partially supported by Developing a Destination for Talent Initiatives and focused on four major economic sectors, information technology, manufacturing, food and beverage processing, and health and life sciences.
###
Virginia's New River Valley: Virginia's New River Valley is an eclectic mix of interconnected small towns that each offer their own unique vibe and appeal. The region provides an abundance of cultural and social offerings due to the presence of three world-class universities, while retaining the charm and benefits of small town living. The NRV is home to a diverse and innovative business community with companies that range from high-tech startups to foreign-based corporations to specialty agribusiness. These organizations benefit from the collaborative spirit of our region and a loyal, highly-skilled, and educated workforce. The scenic beauty of the region also fosters a deep connection to nature, which is deepened by access to outdoor recreation and the preservation of our natural environment. It's clear why Virginia's New River Valley is "A Natural Fit."
Onward NRV: Onward NRV is a public/private, regional economic development organization whose mission is to attract and retain world class jobs, investment, and talent in Virginia's New River Valley. It's also a movement where leaders from business, government, and higher education work together to promote the economic vitality of the region.
https://www.onwardnrv.org/wp-content/uploads/2020/02/VT-Event_group.png
721
1321
Onward New River Valley
https://www.onwardnrv.org/wp-content/uploads/2017/08/Onward_FinalLogo-trim.png
Onward New River Valley
2020-02-18 10:55:58
2021-03-04 09:46:44
Developing a Destination for Talent Initiatives