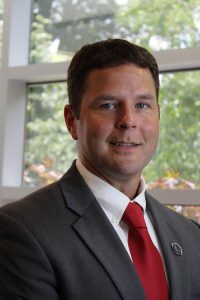 The Roanoke Times
recently featured a commentary from Onward New River Valley Executive Director Charlie Jewell titled "Manufacturing, tech sectors signal optimism for NRV". The commentary discussed the results of surveys that Onward NRV conducted in late September 2020 with local companies in the
manufacturing
and
tech
sectors. The purpose of the survey was to evaluate how NRV companies in these two industries were operating and adapting during the COVID-19 pandemic. Read Charlie's commentary below or visit the original article from
The Roanoke Times
here
.
Manufacturing, tech sectors signal optimism for NRV
As regions across the country work to recover from the economic downturn due to the COVID-19 pandemic, I'd like to share some signs of optimism emerging from the New River Valley.
In late September, Onward NRV (www.onwardnrv.org) conducted a survey of local companies in the manufacturing and tech sectors to assess how the pandemic was impacting them. The survey revealed that while companies in both sectors have certainly faced their fair share of challenges this year, they have weathered the storm relatively well overall and are optimistic about the future.
I'll share some specific insights with you now.
Starting off with the tech sector (www.theNRV.org/tech-sector), companies remained mostly stable in the wake of the pandemic. When respondents were asked to evaluate the current operating status of their companies, only 12% reported that their business had shrunk since the pandemic began. The vast majority indicated that their business had stayed about the same or even grown.
Employment through local tech companies has also remained stable despite COVID-19. Over half of respondents said their number of employees had remained the same since the beginning of the pandemic. Twelve percent of respondents did report a reduction in employee levels, but most anticipated rehiring eliminated positions within a year.
Over a quarter of respondents indicated they had actually increased employment during the pandemic. Additionally, over one-third of all respondents said that they had unfilled job openings, ranging from software developers and engineers to account executives.
As a result of the pandemic, local tech companies have shifted the vast majority of their employees to working remotely from home. Prior to the pandemic, three-fourths of respondents reported that less than 20% of their workforce worked remotely. In contrast, by late September that number had flipped to two-thirds of respondents reporting more than 81% of their employees were remote.
Overall, tech respondents signaled a strong outlook for the coming year. Most respondents had a steady or positive outlook for their company over the next twelve months. Three-fourths of respondents even anticipated an increase in employment.
Shifting to the manufacturing sector (www.theNRV.org/mfg), local manufacturers have persevered through the pandemic with varying impacts on their operations. Three-fourths of respondents reported operating at or above pre-pandemic capacity. The remaining quarter of respondents reported operating at less than pre-pandemic levels, but still above half capacity.
As of late September, over three-fourths of respondents indicated that at least 90% of their employees were physically working on-site. With most employees in the NRV manufacturing industry working in person amid the pandemic, it is no surprise that most respondents said that health and safety was their top concern. As a result, manufacturers have devoted significant time to implementing new public health policies and technologies to keep their employees safe and production running during the pandemic.
Employment through local manufacturers has remained mostly stable during the pandemic. About two-thirds of respondents said their employment levels had remained the same or even increased since the pandemic began. Even though a third of respondents indicated a reduction in employees, most reported only a slight decrease and anticipated adding those jobs back within the next year.
Almost two-thirds of manufacturers reported having unfilled job openings. The types of unfilled positions varied among respondents, but a need for both entry level production workers and engineers was a consistent theme.
Overall, manufacturing respondents also signaled a positive outlook for the next twelve months. Almost all respondents said they had a steady or positive outlook for their company. About two-thirds of respondents expected their companies to increase employment levels within a year and no one anticipated a reduction in employees.
In closing, these are all encouraging signs for the economic recovery in the NRV. The leaders and workers of our manufacturing and tech sectors should be commended for their perseverance and adaptability during the pandemic. They have helped their companies maneuver through extremely challenging times, thereby mitigating further damage to our regional economy.
And for that, we should take comfort and share in their optimism for the NRV.
###
Virginia's New River Valley: Virginia's New River Valley is an eclectic mix of interconnected small towns that each offer their own unique vibe and appeal. The region provides an abundance of cultural and social offerings due to the presence of three world-class universities, while retaining the charm and benefits of small town living. The NRV is home to a diverse and innovative business community with companies that range from high-tech startups to foreign-based corporations to specialty agribusiness. These organizations benefit from the collaborative spirit of our region and a loyal, highly-skilled, and educated workforce. The scenic beauty of the region also fosters a deep connection to nature, which is deepened by access to outdoor recreation and the preservation of our natural environment. It's clear why Virginia's New River Valley is "A Natural Fit."
Onward NRV: Onward NRV is a public/private, regional economic development organization whose mission is to attract and retain world class jobs, investment, and talent in Virginia's New River Valley. It's also a movement where leaders from business, government, and higher education work together to promote the economic vitality of the region.
https://www.onwardnrv.org/wp-content/uploads/2021/01/010421RoanokeTimesOpEdBlog.png
628
1200
Onward New River Valley
https://www.onwardnrv.org/wp-content/uploads/2017/08/Onward_FinalLogo-trim.png
Onward New River Valley
2021-01-04 14:36:06
2021-03-04 09:44:33
Manufacturing, Tech Sectors Signal Optimism for NRV: Roanoke Times Commentary