Onward NRV launches a regional job board as part of our five-year strategic plan, Onward 2023.
As part of Goal Two, attract and retain talent, Onward NRV created a job board to showcase the variety of job opportunities and career pathways throughout the region. The job board, which can be found on the Virginia's New River Valley website, is sectioned into eight categories in addition to a section that connects potential employees with all the jobs available in the region. Through digital marketing campaigns, Onward NRV will working to drive job seekers in and outside of the NRV to the job board where they will find all of the resources they need to learn more about the region, from living here to working here to our unique communities.
We know that finding talent is critical and our job board creates the opportunity to connect individuals directly to potential employers in their career field as well as to tell the story of region. The job board is not only connecting people with a job, it is connecting them with their future community. With over 2,000 jobs available, individuals can find the job for them, whether they are a traveling spouse or just looking to relocate to the New River Valley.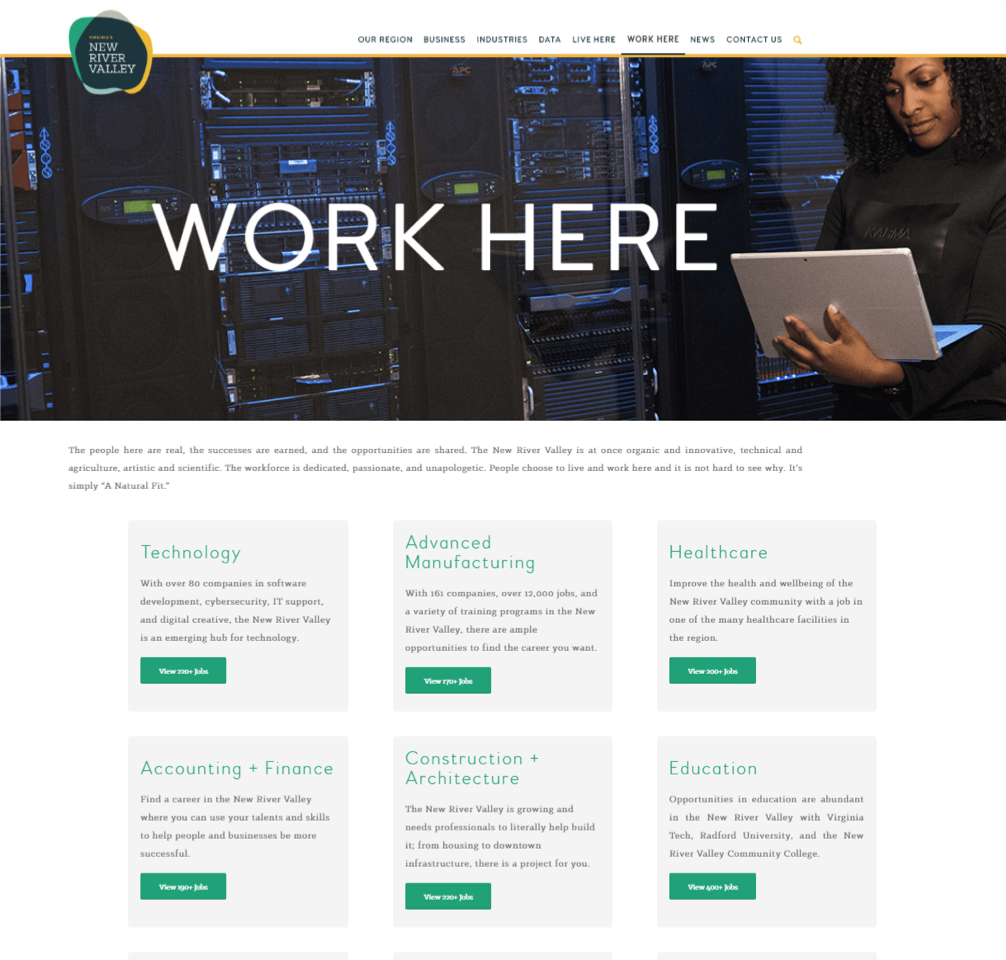 Explore New River Valley's Job Board.
###
Virginia's New River Valley: Virginia's New River Valley is an eclectic mix of interconnected small towns that each offer their own unique vibe and appeal. The region provides an abundance of cultural and social offerings due to the presence of three world-class universities, while retaining the charm and benefits of small town living. The NRV is home to a diverse and innovative business community with companies that range from high-tech startups to foreign-based corporations to specialty agribusiness. These organizations benefit from the collaborative spirit of our region and a loyal, highly-skilled, and educated workforce. The scenic beauty of the region also fosters a deep connection to nature, which is deepened by access to outdoor recreation and the preservation of our natural environment. It's clear why Virginia's New River Valley is "A Natural Fit."
Onward NRV: Onward NRV is a public/private, regional economic development organization whose mission is to attract and retain world class jobs, investment, and talent in Virginia's New River Valley. It's also a movement where leaders from business, government, and higher education work together to promote the economic vitality of the region.
https://www.onwardnrv.org/wp-content/uploads/2020/03/WorkHereBanner4.png
630
1500
Onward New River Valley
https://www.onwardnrv.org/wp-content/uploads/2017/08/Onward_FinalLogo-trim.png
Onward New River Valley
2020-03-18 14:43:31
2021-03-04 09:46:06
Onward NRV Creates Regional Job Board