Onward NRV, with the help of local partners, hosted the Virginia Economic Development Partnership (VEDP) Technologies and Services Team to tour Virginia's New River Valley on October 17th and 18th.
The visit was tailored to part of the team's focus and one of the NRV targeted industries: Information Technology.
The tour kicked off with a dinner at Mountain Lake Lodge, which gave the opportunity to stop at a gorgeous scenic overlook in Giles County.
Guests began the tour with a regional overview presentation and information about Virginia Tech from John Provo, Director of the VT Office of Economic Development, and the Virginia Tech Corporate Research Center from CEO Joe Meredith, PhD. Both the university and the research park are significant assets for new or existing IT companies.
Next, the tour stopped at Rackspace to talk about talent recruitment and take a quick tour to see a prominent example of an IT company in the NRV.
The first building tour was at the Coleman-Vaughan building in Pulaski. The vintage building is full of character and unique architecture. Walking to lunch at Al's on First allowed for a brief walking tour of downtown Pulaski and an overview of some of the redevelopment projects in the area.
The group also had a chance to visit Radford University Corporate Park, a great location for an IT company, and visit with Matt Dunleavy, the director of the Vinod Chachra IMPACT lab.
Then, guests tour the Radford University ARTIS lab and heard from faculty and staff about the amazing offerings RU has for IT companies, such as customized coursework and connections to internships.
The last stop on the tour was in Floyd at the Floyd Innovation Center. The local incubator is a great place for an IT company to set up. A newer tenant, Tendergrass Farms, was able to share their story of innovation and their process of meeting agriculture with technology.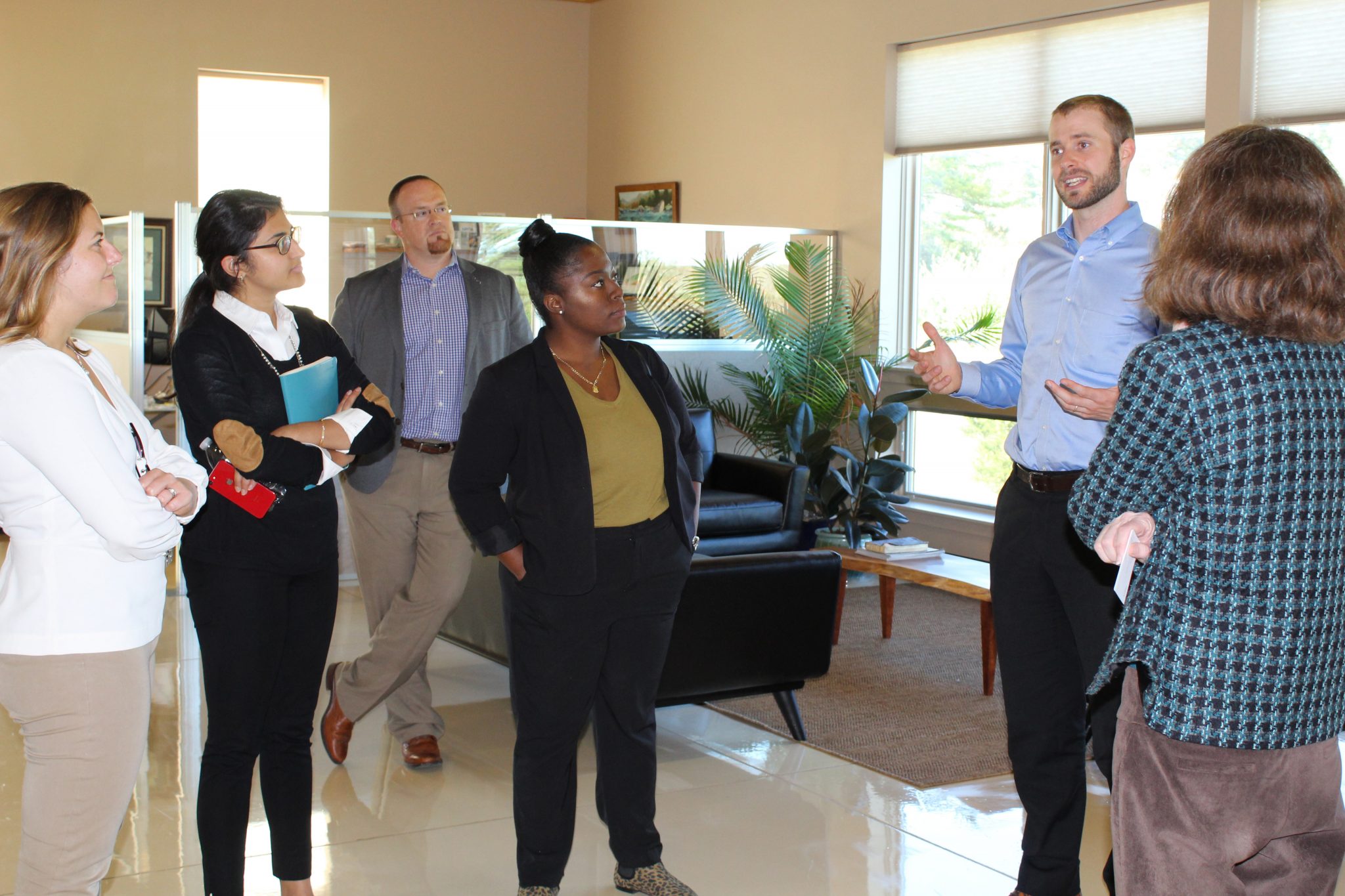 The short tour, which reached each county and city in less than one day, was a great opportunity to tell the story of Information Technology in Virginia's New River Valley.
###
Virginia's New River Valley: Virginia's New River Valley is an eclectic mix of interconnected small towns that each offer their own unique vibe and appeal. The region provides an abundance of cultural and social offerings due to the presence of three world-class universities, while retaining the charm and benefits of small town living. The NRV is home to a diverse and innovative business community with companies that range from high-tech startups to foreign-based corporations to specialty agribusiness. These organizations benefit from the collaborative spirit of our region and a loyal, highly-skilled, and educated workforce. The scenic beauty of the region also fosters a deep connection to nature, which is deepened by access to outdoor recreation and the preservation of our natural environment. It's clear why Virginia's New River Valley is "A Natural Fit."
Onward NRV: Onward NRV is a public/private, regional economic development organization whose mission is to attract and retain world class jobs, investment, and talent in Virginia's New River Valley. It's also a movement where leaders from business, government, and higher education work together to promote the economic vitality of the region.
https://www.onwardnrv.org/wp-content/uploads/2018/10/group-sunset-edit-phoen-small.jpg
1536
2048
Onward NRV
https://www.onwardnrv.org/wp-content/uploads/2017/08/Onward_FinalLogo-trim.png
Onward NRV
2018-10-19 13:12:53
2018-10-19 13:12:53
Onward NRV Hosts VEDP Technologies & Services Team