New River Valley, VA – Onward New River Valley received a Excellence in Economic Development Gold Award from the International Economic Development Council (IEDC) for the Virginia's New River Valley Region Video. This is the second year in a row that Onward NRV has received an Excellence in Economic Development Award from IEDC.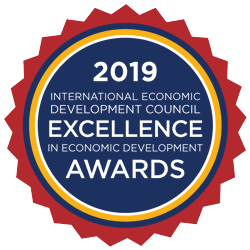 Onward NRV created Virginia's New River Valley regional video to provide a brief but comprehensive insight into the culture of our region. The 2.5 minute video takes a look inside industry, local cultural and social offerings, outdoor scenery and recreation, and more. The video is back by by inspiring music and a voice over that was developed based on the region's brand narrative. The purpose of the video was to aid in general awareness, job attraction and retention, and highlight the incredible quality of life in the region. The video connected with both internal and external audiences. It serves as a spectacular resource to quickly and concisely convey the culture of Virginia's New River Valley.
The video was submitted in the multimedia/video category and was in the running for Best in Show Award.
About the International Economic Development Council: The International Economic Development Council (IEDC) is the world's largest membership organization for economic development professionals. Economic developers promote economic well-being and quality of life in their communities by creating, retaining, and expanding jobs that facilitate growth and provide a stable tax base. From public to private, rural to urban, and local to international, our members represent the entire range of economic development. Learn more at iedconline.org.
###
Virginia's New River Valley: Virginia's New River Valley is an eclectic mix of interconnected small towns that each offer their own unique vibe and appeal. The region provides an abundance of cultural and social offerings due to the presence of three world-class universities, while retaining the charm and benefits of small town living. The NRV is home to a diverse and innovative business community with companies that range from high-tech startups to foreign-based corporations to specialty agribusiness. These organizations benefit from the collaborative spirit of our region and a loyal, highly-skilled, and educated workforce. The scenic beauty of the region also fosters a deep connection to nature, which is deepened by access to outdoor recreation and the preservation of our natural environment. It's clear why Virginia's New River Valley is "A Natural Fit."
Onward NRV: Onward NRV is a public/private, regional economic development organization whose mission is to attract and retain world class jobs, investment, and talent in Virginia's New River Valley. It's also a movement where leaders from business, government, and higher education work together to promote the economic vitality of the region.
https://www.onwardnrv.org/wp-content/uploads/2019/12/Screen-Shot-2019-12-06-at-10.33.42-AM-e1575646577292.png
504
1019
Onward New River Valley
https://www.onwardnrv.org/wp-content/uploads/2017/08/Onward_FinalLogo-trim.png
Onward New River Valley
2019-12-06 10:21:52
2020-12-02 09:21:13
Onward NRV Receives IEDC Award Two Years in a Row