The August 2020 issue of Valley Business Front featured an article titled, "Not Your Father's Manufacturing Industry". The article showcases the manufacturing industry in Virginia's New River Valley.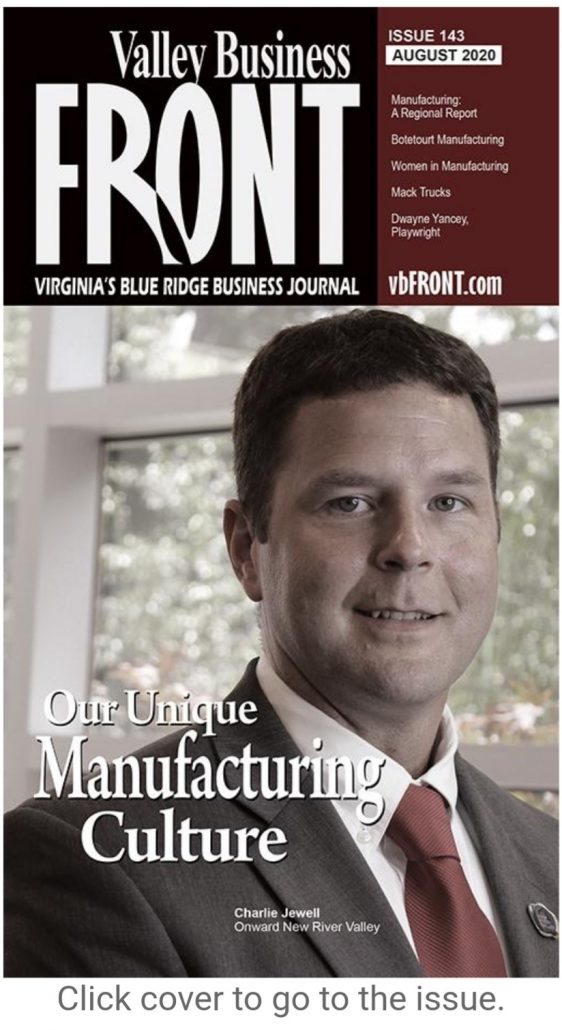 Onward NRV's executive director, Charlie Jewell, was quoted extensively in the article and was featured on the cover of the magazine. In the article, Jewell states that "The [manufacturing] sector employs 12,000 people, making it one of the top five employment industries [in the New River Valley]."
The article also highlights Onward NRV has implemented to help support and grow the industry in the region like the bi-annual Manufacturing Leaders' Summits. These summits allow Onward to build relationships with the region's manufacturing leaders and to identify needs and concerns relevant to the industry. Initiatives like these help Onward to keep a pulse on manufacturing in the New River Valley and advocate for the industry's continued success across the NRV.
Read the article from Valley Business Front here.
Learn more about manufacturing in Virginia's New River Valley here.
Learn more about initiatives that Onward NRV is spearheading to support the manufacturing industry here.
###
Virginia's New River Valley: Virginia's New River Valley is an eclectic mix of interconnected small towns that each offer their own unique vibe and appeal. The region provides an abundance of cultural and social offerings due to the presence of three world-class universities, while retaining the charm and benefits of small town living. The NRV is home to a diverse and innovative business community with companies that range from high-tech startups to foreign-based corporations to specialty agribusiness. These organizations benefit from the collaborative spirit of our region and a loyal, highly-skilled, and educated workforce. The scenic beauty of the region also fosters a deep connection to nature, which is deepened by access to outdoor recreation and the preservation of our natural environment. It's clear why Virginia's New River Valley is "A Natural Fit."
Onward NRV: Onward NRV is a public/private, regional economic development organization whose mission is to attract and retain world class jobs, investment, and talent in Virginia's New River Valley. It's also a movement where leaders from business, government, and higher education work together to promote the economic vitality of the region.
https://www.onwardnrv.org/wp-content/uploads/2020/08/080720ValleyBusinessFrontMFGBlog.jpg
628
1200
Onward New River Valley
https://www.onwardnrv.org/wp-content/uploads/2017/08/Onward_FinalLogo-trim.png
Onward New River Valley
2020-08-07 12:46:56
2020-12-02 08:47:35
Onward NRV Featured in Valley Business Front Article