Onward New River Valley was featured in a recent WSLS news story about bringing passenger rail service to the New River Valley. James Cabler, Onward NRV's Director of Business Engagement, spoke with WSLS's Jessica Jewell about how passenger rail in the NRV would benefit the economy and increase employers' ability to attract and retain talent in the region.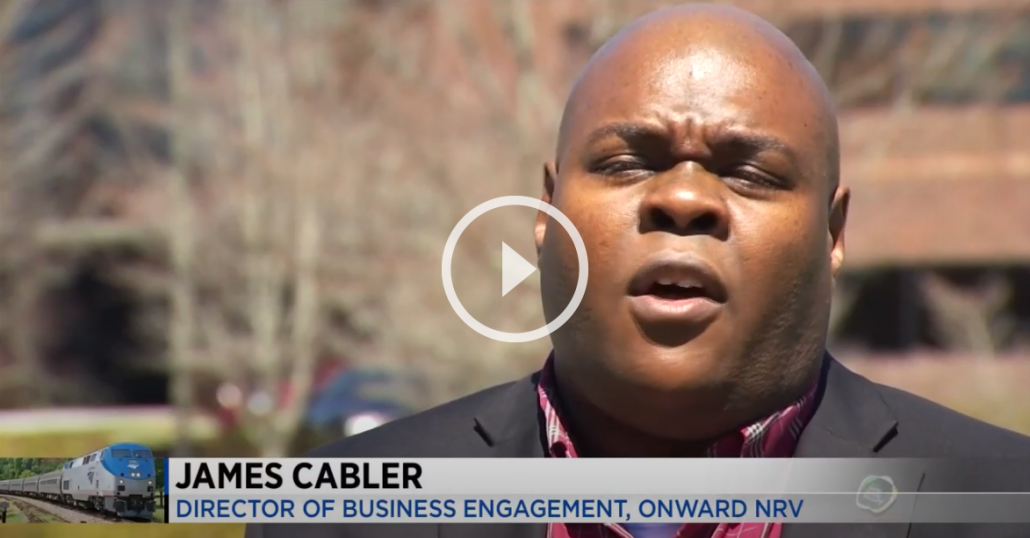 According to James, "being able to get to and from the New River Valley easily in another form of public transportation is definitely something that will help bolster the economy for the entire New River Valley."
Watch the full interview here.
###
Virginia's New River Valley: Virginia's New River Valley is an eclectic mix of interconnected small towns that each offer their own unique vibe and appeal. The region provides an abundance of cultural and social offerings due to the presence of three world-class universities, while retaining the charm and benefits of small town living. The NRV is home to a diverse and innovative business community with companies that range from high-tech startups to foreign-based corporations to specialty agribusiness. These organizations benefit from the collaborative spirit of our region and a loyal, highly-skilled, and educated workforce. The scenic beauty of the region also fosters a deep connection to nature, which is deepened by access to outdoor recreation and the preservation of our natural environment. It's clear why Virginia's New River Valley is "A Natural Fit."
Onward NRV: Onward NRV is a public/private, regional economic development organization whose mission is to attract and retain world class jobs, investment, and talent in Virginia's New River Valley. It's also a movement where leaders from business, government, and higher education work together to promote the economic vitality of the region.
https://www.onwardnrv.org/wp-content/uploads/2021/02/Onward-NRV-in-the-News-Graphic.jpg
800
1200
Onward New River Valley
https://www.onwardnrv.org/wp-content/uploads/2017/08/Onward_FinalLogo-trim.png
Onward New River Valley
2021-04-05 16:44:27
2021-12-02 15:34:58
Onward NRV Featured in WSLS NRV Passenger Rail Story