Onward New River Valley hosted their Spring 2021 Investor Live Stream Event on Thursday, March 11, 2021. This virtual event discussed COVID-19 vaccines in a program titled, "NRV Vaccination Distribution and Employer Legalities". Onward NRV welcomed Dr. Noelle Bissell, Health Director of the New River Health District, and Jim Cowan, Chairman of CowanPerry PC, as the guest speakers for the event.
James Cabler, Director of Business Engagement, began the event by welcoming viewers, thanking Onward NRV's investors, welcoming two new investors, and sharing a message from the event's sponsor, ServPro of Montgomery and Pulaski Counties. He then turned it over to Executive Director Charlie Jewell.
Charlie gave a progress report on Onward NRV's five-year strategy and shared some of the milestones that the organization has achieved in the first two and a half years of implementing the strategic plan. Charlie then gave a general update about the economic recovery of Virginia's New River Valley from the COVID-19 pandemic.
The two guest speakers then gave presentations about COVID-19 vaccines. Dr. Bissell updated investors on the status of COVID-19 vaccine distribution efforts in the NRV. Jim Cowan provided a legal perspective on common questions that employers have about COVID-19 vaccinations for their employees. After their presentations, the guest speakers answered questions that Charlie Jewell asked on behalf of Onward NRV investors.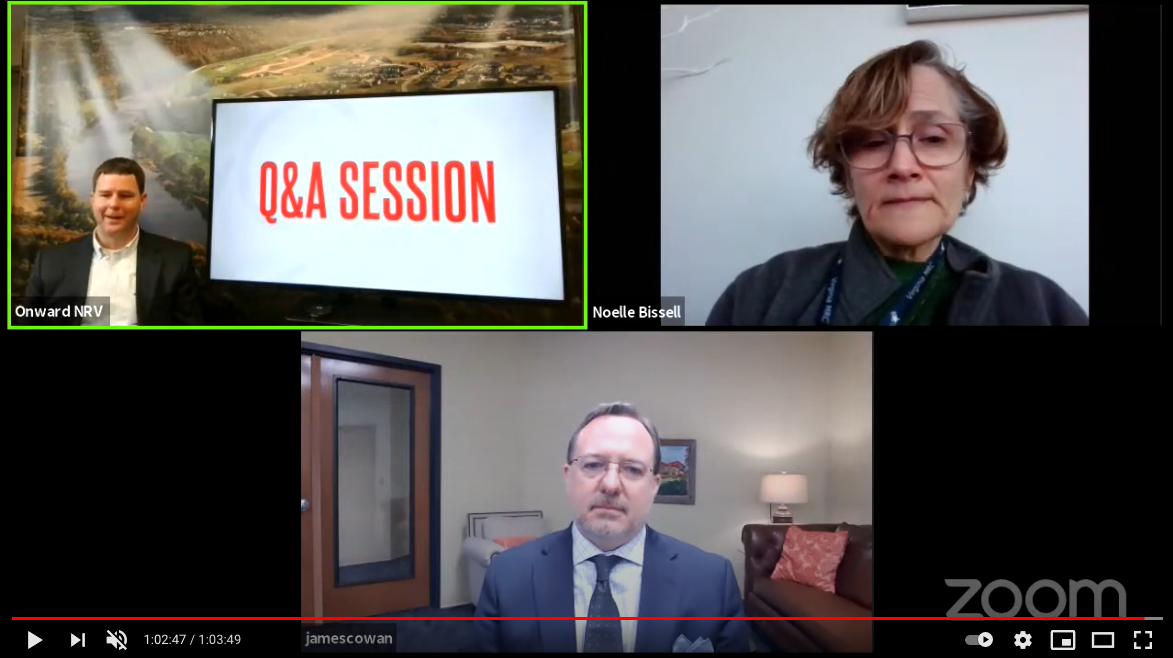 Thank you to everyone who streamed the event live and to the 100+ investors who make Onward New River Valley's work possible. Watch the replay of the live stream above or on Onward NRV's YouTube page.
This event was sponsored by ServPro of Montgomery and Pulaski Counties.
###
Virginia's New River Valley: Virginia's New River Valley is an eclectic mix of interconnected small towns that each offer their own unique vibe and appeal. The region provides an abundance of cultural and social offerings due to the presence of three world-class universities, while retaining the charm and benefits of small town living. The NRV is home to a diverse and innovative business community with companies that range from high-tech startups to foreign-based corporations to specialty agribusiness. These organizations benefit from the collaborative spirit of our region and a loyal, highly-skilled, and educated workforce. The scenic beauty of the region also fosters a deep connection to nature, which is deepened by access to outdoor recreation and the preservation of our natural environment. It's clear why Virginia's New River Valley is "A Natural Fit."
Onward NRV: Onward NRV is a public/private, regional economic development organization whose mission is to attract and retain world class jobs, investment, and talent in Virginia's New River Valley. It's also a movement where leaders from business, government, and higher education work together to promote the economic vitality of the region.
https://www.onwardnrv.org/wp-content/uploads/2021/03/031521SpringInvestorLiveStreamBlog.jpg
628
1200
Onward New River Valley
https://www.onwardnrv.org/wp-content/uploads/2017/08/Onward_FinalLogo-trim.png
Onward New River Valley
2021-03-15 14:23:59
2021-03-16 11:12:40
NRV COVID-19 Vaccine Updates Shared During Spring Investor Live Stream