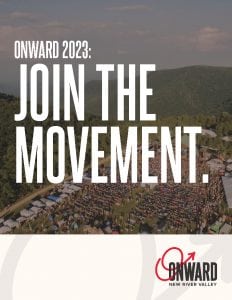 VIRGINIA'S NEW RIVER VALLEY – Onward New River Valley publicly launched its fundraising campaign, Onward 2023: Join the Movement, to a record-breaking crowd during the organization's annual dinner. Onward is seeking funding for a five-year strategic plan to bring jobs, investment, and talent to Virginia's New River Valley.
The event's program featured keynote speakers Delegates Chris Hurst and Nick Rush and remarks from the Onward 2023 Fundraising Campaign Co-Chairs John Dooley, PhD and Ed Lawhorn.
Onward Executive Director Charlie Jewell provided an overview of the five-year strategic plan. The plan is a modern approach to economic development that focuses on four main goals:
INDUSTRY | Support and grow targeted industries to stimulate job opportunities and investment.
TALENT | Attract and retain talent to strengthen targeted industries and grow communities.
PLACEMAKING | Cultivate regional assets and Virginia's new River Valley brand to foster economic vitality.
REGIONALISM | Be a high-performing regional economic development organization that unifies the NRV.
Over five years, executing these strategies is projected to stimulate $180 million in new capital investment and 3,488 new direct/indirect jobs in the NRV (33% new companies, 67% at existing companies).
"These are exciting times for business recruitment and expansion in the New River Valley," said John Dooley, PhD, Fundraising Campaign Co-Chair.  "Onward NRV is a critical contributor to our regional economic development. I have confidence your investments in their leadership efforts will have a sustained impact on the future vitality of the region."
Onward NRV's immediate goal is to raise $1.5 million in cash and five-year pledges from companies and organizations in order to fully fund the five-year program.
"There's never been a better time to be an Onward NRV investor," said Ed Lawhorn, Fundraising Campaign Co-Chair. "The five-year strategy will play a critical role in shaping the future of the NRV by ensuring we have the businesses, talent, and assets necessary to compete in a global, knowledge-based economy."
Onward also unveiled a new regional video that aids in the cultivation of the Virginia's New River Valley brand.
For more information about investing in Onward NRV and the five-year strategy, please contact James Cabler, Operations & Investor Relations Manger, at james@onwardnrv.org.
Onward NRV is a public/private, regional economic development organization whose mission is to attract and retain world class jobs, investment, and talent in Virginia's New River Valley. It's also a movement where leaders from business, government, and higher education work together to promote the economic vitality of the region. For more information visit www.OnwardNRV.org.
###
https://www.onwardnrv.org/wp-content/uploads/2018/09/Del.Nick_.Rush_.Del_.Chris_.Hurst_.jpg
1333
2000
Onward NRV
https://www.onwardnrv.org/wp-content/uploads/2017/08/Onward_FinalLogo-trim.png
Onward NRV
2018-09-22 23:37:45
2020-03-13 13:04:55
Onward NRV Launches Fundraising Campaign and 5-Year Plan at Annual Dinner