Washington, DC – Onward New River Valley won a silver category award for its "Tech Jobs in the NRV" Video Campaign, a project in the Digital Media category of the International Economic Development Council's 2020 Excellence in Economic Development Awards Program. The honor was presented at an awards ceremony during the IEDC 2020 Virtual Annual Conference, which took place from October 13-16.
"We are very honored to receive this award through IEDC," said Charlie Jewell, Executive Director of Onward NRV. "The digital campaign is one of several initiatives we have through our Onward 2023 strategy designed to support the continued growth of our local tech sector in Virginia's New River Valley. We were very pleased with the campaign results and look forward building upon its success through future digital marketing campaigns."
IEDC's Excellence in Economic Development Awards recognize the world's best economic development programs and partnerships, marketing materials, and the year's most influential leaders. Thirty-five award categories honor organizations and individuals for their efforts in creating positive change in urban, suburban, and rural communities. Awards are judged by a diverse panel of economic and community developers from around the world, following a nomination process held earlier this year. IEDC received over 500 submissions from 4 countries.
"The winners of IEDC's Excellence in Economic Development awards represent the very best of economic development and exemplify the ingenuity, integrity, and leadership that our profession strives for each and every day," said 2020 IEDC Board Chair and One Columbus CEO Kenny McDonald. "We're honored to recognize the more than 100 communities whose marketing campaigns, projects and partnerships have measurably improved regional quality of life."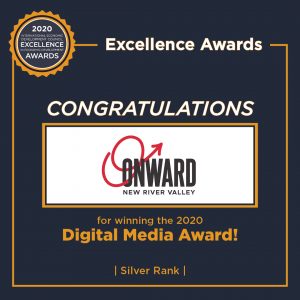 One of the primary goals of Onward NRV's five-year economic development strategy, dubbed Onward 2023, is to support and grow the tech sector in the New River Valley by building a talent pipeline to further support the sector's impressive growth. When the campaign was developed in early 2020, employment through IT companies in the NRV had grown by 29 percent over the previous five years and was projected to grow by fifty percent within the next 18 months. As a result of the growth, many tech companies in the region were finding it challenging to find enough talent to fill their job openings.
To increase the tech talent pipeline in the region, Onward NRV created a strategic, paid digital marketing campaign to raise the visibility of the New River Valley as an emerging tech hub to tech talent living outside the NRV. The five-week campaign ran across across Facebook and LinkedIn and focused on recruiting tech professionals, specifically software developers, analysts, and cyber security experts, to the region.
The digital campaign leveraged several marketing assets that were developed by Onward NRV to tell the story of the tech sector in the region. These included:
Each post in the campaign included messaging on the companies, careers, and lifestyle that make the tech sector in Virginia's New River Valley unique and a link to the Tech in the NRV website, which featured a job board listing available job openings at tech companies in the region. In all, the campaign reached over 85,000 people, with 48,000 of them viewing the videos and over 500 people clicking through to the website.
This marks the third consecutive year that Onward New River Valley has won an Excellence in Economic Development Award through IEDC. In 2019, Onward NRV won a gold award for its "Virginia's New River Valley: A Natural Fit" video and in 2018, it won a bronze award for its Targeted Industries brochures for Information Technology, Advanced Manufacturing, Food Processing & Agribusiness, and Unmanned Systems.
About the International Economic Development Council: The International Economic Development Council (IEDC) is a non-profit, non-partisan membership organization serving economic developers. With more than 5,000 members, IEDC is the largest organization of its kind. Economic developers promote economic well-being and quality of life for their communities, by creating, retaining and expanding jobs that facilitate growth, enhance wealth and provide a stable tax base. When we succeed, our members create high-quality jobs, develop vibrant communities, and improve the quality of life in their regions. Learn more at iedconline.org.
###
Virginia's New River Valley: Virginia's New River Valley is an eclectic mix of interconnected small towns that each offer their own unique vibe and appeal. The region provides an abundance of cultural and social offerings due to the presence of three world-class universities, while retaining the charm and benefits of small town living. The NRV is home to a diverse and innovative business community with companies that range from high-tech startups to foreign-based corporations to specialty agribusiness. These organizations benefit from the collaborative spirit of our region and a loyal, highly-skilled, and educated workforce. The scenic beauty of the region also fosters a deep connection to nature, which is deepened by access to outdoor recreation and the preservation of our natural environment. It's clear why Virginia's New River Valley is "A Natural Fit."
Onward NRV: Onward NRV is a public/private, regional economic development organization whose mission is to attract and retain world class jobs, investment, and talent in Virginia's New River Valley. It's also a movement where leaders from business, government, and higher education work together to promote the economic vitality of the region.
https://www.onwardnrv.org/wp-content/uploads/2020/10/103020IEDCAwardBlog.jpg
628
1200
Onward New River Valley
https://www.onwardnrv.org/wp-content/uploads/2017/08/Onward_FinalLogo-trim.png
Onward New River Valley
2020-10-30 12:16:01
2020-10-30 14:54:51
Onward NRV Receives Third Consecutive IEDC Award